What is cohousing?
Cohousing is private housing designed to share communal spaces, in order to provide a less isolated, friendlier, more sustainable way of living. Cohousing schemes cultivate neighbourly interactions and create communities.
Cohousing is not communal living or cohabitation. Each home in a cohousing scheme is self-contained and private, with all the spaces you'd expect (bedrooms, kitchen, bathroom, living rooms, etc).
Private
home (including bedrooms, kitchen, bathrooms, living areas)
legal ownership of each home
Shared
outside spaces (gardens, play areas, etc)
inside spaces (co-working space, spare rooms for visitors, common rooms, etc)
facilities (laundry room, store cupboards, etc)
resources (cars, tools, garden equipment, etc)
services (high-bandwidth Internet, utilities)
legal ownership of the cohousing association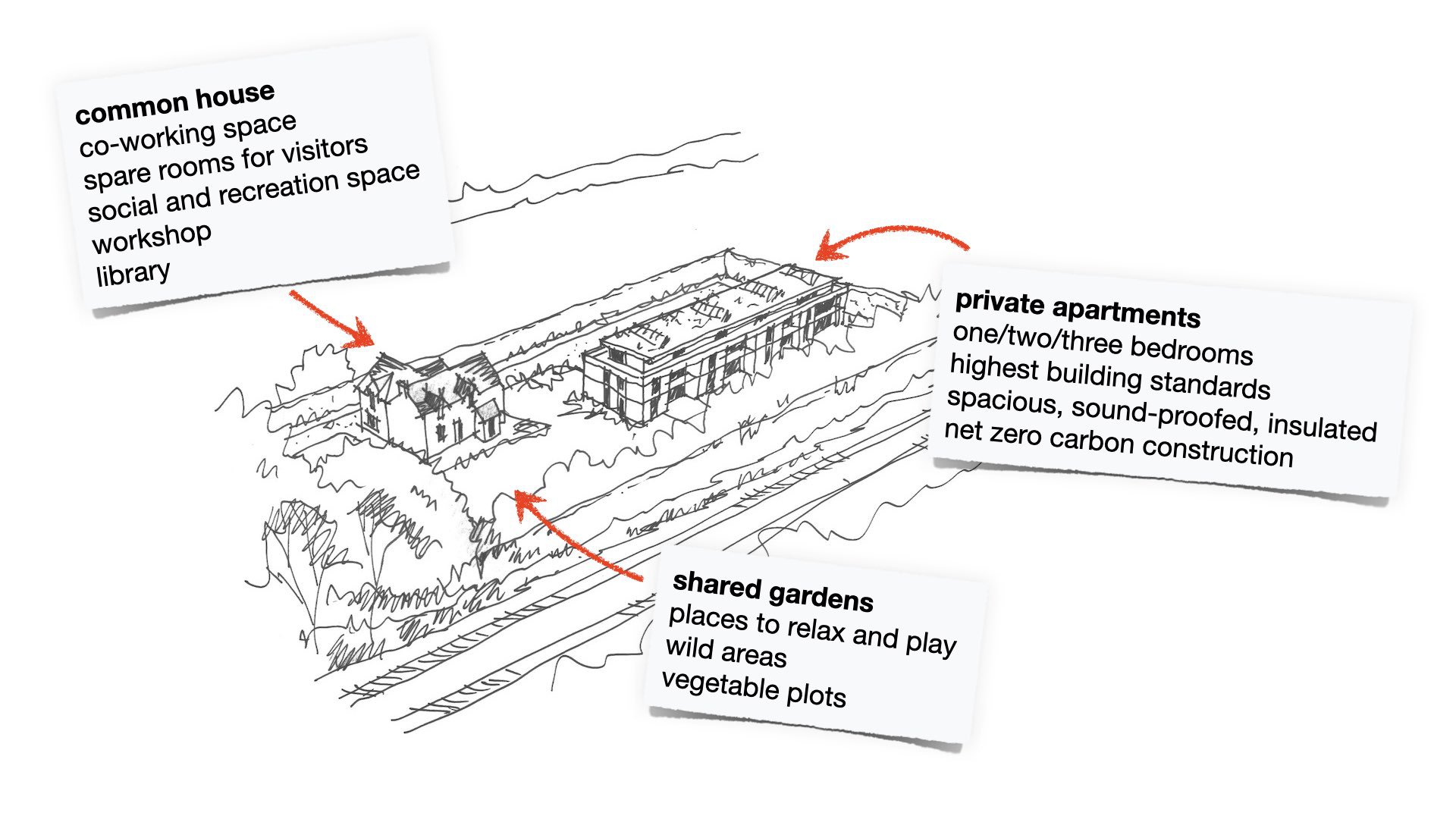 Sharing
Cohousing shares things that it makes sense for separate households to share.
Spaces
A shared garden can be bigger and better than one belonging to a single household. A cohousing scheme with shared office space means that you can have an office at home that doesn't take up a room in your own house.
Having shared spare rooms that can be reserved for visitors means that you don't have to own a house with extra space that isn't needed most of the time.
Cohousing creates the possibility of having spaces that wouldn't be feasible otherwise - a large common room could contain (just for example) a ping-pong table, a projector and screen for movie nights and enough space to host a large party.
Cohousing makes it possible to share facilities such as a laundry room or store cupboards that you need but don't necessarily want to have inside your own house, consuming precious space.
Facilities
Sharing lowers costs and raises the quality of the things that you can afford, spreads the cost of maintaining them, and makes new things possible.
Cohousing can include shared ownership and use of resources (such as cars and tools) and services (such as a high-bandwidth Internet connection), often much better ones than each could afford on their own. Even things that are not owned in common, such as specialist tools, become easier to borrow and share. 
Through cohousing, things that would be extravagant for a single person or family to own become reasonable (for example, a large tree-house in a garden shared by multiple families).
The cohousing association and community
A cohousing scheme is managed and run by its members, who form a housing association to make decisions and take responsibility for the scheme.
Cohousing is intentional - it's not just a group of households that happen to live on the same site, it's also a group of people who agree that they want to live in a certain way. This means that they need to be prepared to work together about how they live, and take shared responsibility for the cohousing community. It means being able to deal with discussion and sometimes with disagreement.
Cohousing in the United Kingdom
There are cohousing groups across the UK, of different sizes, at different stages in their development and based on different models. More information is available from UK Cohousing.
Our own approach will need to adapt to local circumstances and opportunities. However, we will pursue this scheme in line with the five principles outlined by UK Cohousing:
intentional communities: the scheme and its community are developed intentionally, according to a shared vision, and achieved through active participation in its creation

provision of private and common facilities: alongside private living spaces, common facilities will be designed and created, in a balance that meets the needs of the group

appropriate scale: the cohousing scheme will be established at a size to enable informal and easy relations between its residents

democratic structure and shared responsibilities: the residents will share decision-making and responsibility for its management

inclusivity and consideration for the wider community: housing has greater value when it is of benefit to more than just its residents; the scheme and its residents will be part of and contribute to the local community